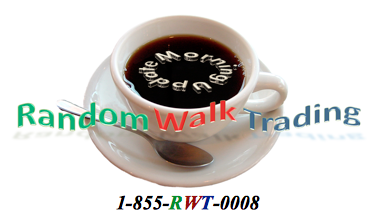 Prepared by the good people at Random Walk, LLC. (and Scott)
Wednesday 2:00 rate decision and end of QE 3,000 announcement.
Great Morning
Closing Prices From Yesterday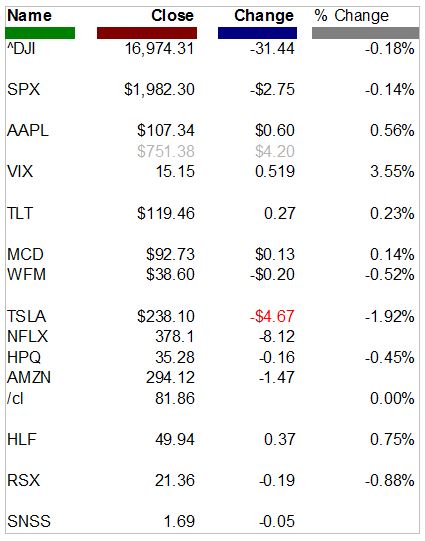 Today's Number(s)

Yesterday and Today
Yesterday
All that mattered was the Fed. The market opened higher in a continuation of buying from the day before, but quickly ran out of steam. Eventually the markets sold off a little in cautious anticipation of the Fed announcement. The TLT slowly sank all day leading up to the numbers, eventually being down more than $0.70.
Once the Fed announced the markets sold off. Apparently there were people expecting QE4, 5 and 6 just because the Dow fell 9% last month and bounced back all the way. The Fed said and did exactly what it said it was going to do, and the markets were still a little surprised.
We then bounced all the way back to almost unchanged, and fell again. On the close we cam back all the way to almost unchanged AGAIN. Then after cash closed futures sold off about 6 points more
So when you see the markets tomorrow keep in mind that the SPX will be a little out of line with the Dow.
TODAY
I expect the markets to shake off the Fed ending QE without so much as a "going away parade". Once that happens we will start to focus on next week's elections. The market will likely climb in a cautious manner until AFTER the elections and then run like the wind higher.
Of course all of this is contingent on there not being an unforeseeable event like 20 Ebola patients, ISIS having a minor victory, etc.
Keep in mind we are getting isolated IDIOTS killing cops with hatchets and beheading people. Another woman was beheaded in NY last night. Of course SOMEONE (any guesses who?) is putting pressure on the media to NOT mention that all these lunatics are ISIS (single) cells in the US, or wannabe sympathizers.
KEEP IN MIND that bad numbers will now be bad numbers. In the past bad numbers were good because people held up hope that the bad numbers would bring more money from helicopters. Now that QE is done, they don't have that hope to hold on to.
So something stupid can come out of nowhere to interrupt this zombie bull. It may get hit and fall down, but it keeps getting right back up.