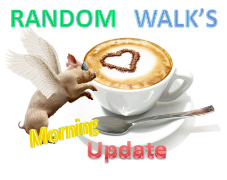 1-855-RWT-0008
Random Walk's Motto:
Loving our students like family allows us the energy to go beyond any other firm and your expectations.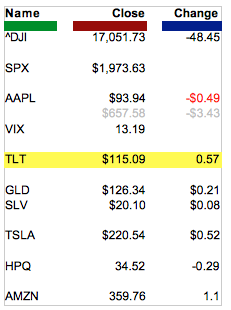 Above I don't have a net change for the VIX or SPX as TOS's "thinkback" didn't provide any real information. I tried!
There were a lot of cracks created in the dam last week, but so far they are hard to see. Though causing great structural issues for the market, the impact wont be seen for a while.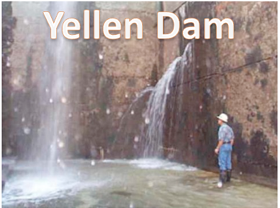 Today's Number(s)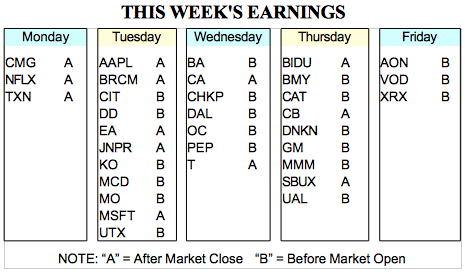 This is not all of the earnings, rather a small portion that Random Walk has been watching in POT.
Yesterday and Today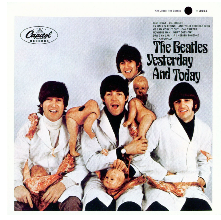 Yesterday
The markets opened down the equivalent of about 50 Dow points until an announcement was made that Obama was going to speak at 10:50pm eastern. After that announcement the markets drifted lower to a bottom of 16,974 (about 120 points down). At promptly 11:12 President came out to speak, but reiterated what he had said the previous day.
The markets are still afraid the President will say something tough one day that could signal getting into a military situation, but it is not going to happen with Obama. So after the speech ended the markets fought their way back to only down 20 on the day (made back 100 points). Then the day ended for all practical purposes. 
Today
We are now in "wait and see mode". It has taken 2 years to NOT get to the bottom of Benghazi. It has taken an equal amount of time to NOT get to the bottom of IRS-gate. I suspect the same thing will happen with this (if the US has any culpability in the matter). Thus the markets will forget about this and move higher (most likely). That is unless yet another international mess is created.
I will say one thing for President Obama. He is certainly trying to give me the volatility in the markets I crave. Bush had one major international mess. Clinton had one mini one. Bush Sr had one. President Obama is all over the map, but none are sticking when there is $4.5 trillion on bond money that has to go somewhere.